Mount Athos Center with the Chilandar Monastery Institute, on the occasion of the 800th anniversary of the consecration of the Athonite Saint Savvas of Chilandar Monastery as the first Archbishop of Serbia (1219-2019) present together a group exhibition of paintings featuring modern artistic representations of St. Savvas entitled "The Athonite Saint Savvas of Chilandar. Modern artistic representations".
The opening ceremony, which took place at 7 p.m. on Wednesday 19 February in the exhibition space of the Residence of the Princess Ljubica in Belgrade, was a splendid formal occasion and was attended by many members of the Serbian capital's art-loving public. The exhibition will remain open until 3 March 2020.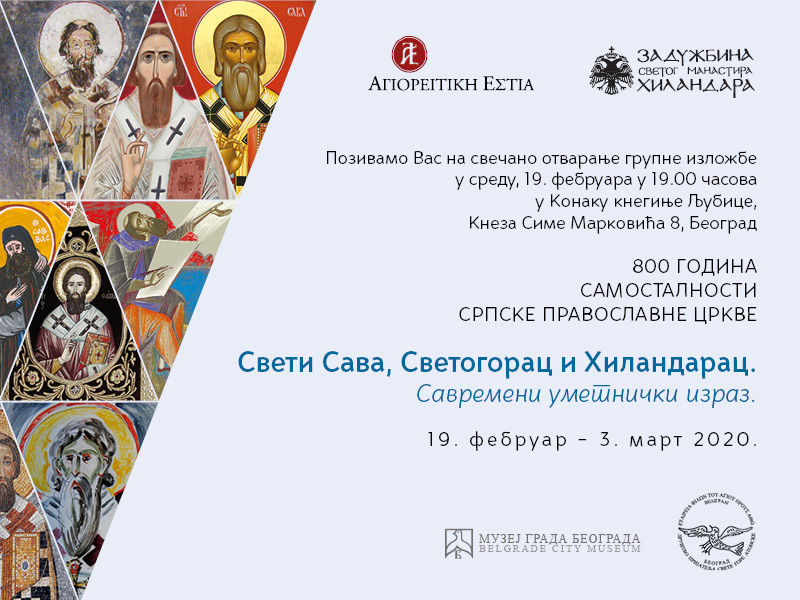 The
exhibition was presented at the Mount Athos Center in Thessaloniki from 5 November 2019 to 20 January 2020
and is part of the broader programme of commemorative events organised by the Mount Athos Center, which includes the publication of a commemorative volume on the life and work of St. Savvas, the translation and publication of the first biography of St. Savvas by Domentianos, and also the scientific conferences held in Thessaloniki (within the framework of the 4th International Scientific Laboratory) and in Belgrade.
During the ceremony the Director of the Mount Athos Centre, Mr. Anastasios Douros, conveyed the greetings of the Mayor of Thessaloniki and President of the Mount Athos Centre's board of directors, Mr. Konstantinos Zervas, and made special mention of the programme of celebratory events that has been organised by the Mount Athos Centre. He also stressed the historical and theological importance of St. Savvas, as well as the great artistic value of the works displayed in the exhibition, which so masterfully connects the past with the present. The event was addressed by the representative of the Patriarch of Serbia, His Grace Bishop Stefan of Remesiana, the hegumen of Chilandar Monastery, the Very Reverend Archimandrite Methodios, and the Director of the Chilandar Monastery Foundation, Mr. Milivoy Randic.
The occasion was graced with traditional music by a youth group from the Friends of Fenek Monastery near Belgrade.
The exhibition contains work by the following workshops and artists:
Iconography workshop of the Cell of St. Nicholas Bourazeri ● Workshop of Makrinos Monastery ● Workshop of the Cell of St. Gregory Palamas ● Hieromonk Anastasios, Cell of St. John the Forerunner 'Dionysios of Fourna' of Koutloumousiou Monastery ● Giorgos Kordis ● Konstantinos Vapheiades ● Giannis Masteropoulos ● Ieremias ● Miomir Bucalo ● Aleksandar Deroko (†)● Lj. Djurdjević ● Zoran Graovac ● Snezana Jovcic-Oldja ● Goran Jovic ● Miroslav Lazovic ● Todor Mitrovic ● Jovanović Pale ● Branislav Petrić ● Vanya Sapundzieva ● Nicola Saric ● Svetislav Stanković.
Exhibition curator
: Anastasios Douros, Director, Mount Athos Center
Duration of exhibition:
February 19 - March 3, 2020
Opening hours:
Tuesday, Wednesday, Thursday and Saturday: 10:00 - 17:00
Friday: 10:00 - 18:00
Sunday: 10:00 - 14:00
Address:
The Residence of Princess Ljubica, Kneza Sime Markovica 8, Beograd