This year, 2020, the Mount Athos Centre is celebrating the 20th anniversary of its foundation. To mark the event, it is organising an extensive programme of celebratory events.
The first of these events is the exhibition of photographs by Nikos Koukis entitled 'Mount Athos – Life in the Desert', which will be on display in the exhibition space of the Mount Athos Centre from 13 February until 4 April 2020 (extension until September 5, 2020).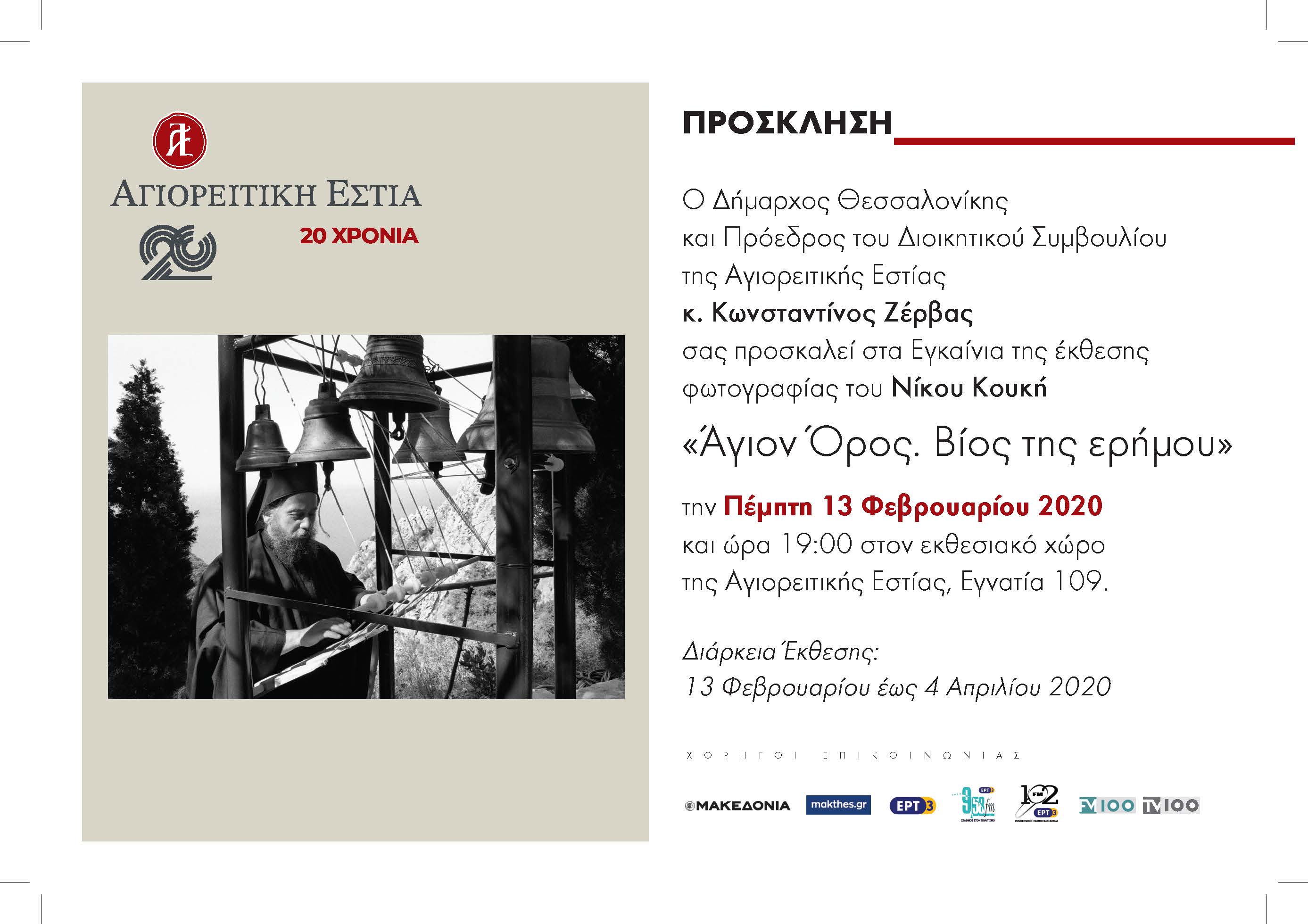 The exhibition has been jointly curated by Anastasios Douros, the Director of the Mount Athos Centre, and the architect/restorer Phaedon Chatziantoniou.

For further information

Brief resumé of Nikos Koukis' photographic career


The photographic exhibition was officially opened on 13 February by the Mayor of Thessaloniki and President of the Board of Directors of the Mount Athos Centre, Mr. Konstantinos Zervas.
In his welcome address, the Mayor stressed the valuable contribution that the Mount Athos Centre has made in the fields of scientific research and culture, as well as its efforts to promote its work internationally, and also commended its plans to hold a series of celebratory events throughout the coming year, which is to be announced shortly.
Nikos Koukis, who also works as a musician for the Thessaloniki State Orchestra, is an old friend of Mr. Zervas from the time the latter was president of the Special Fund for the Organisation of Concerts by the Thessaloniki State Orchestra.
The Director of the Mount Athos Centre, Mr. Anastasios Douros, observed that 'Nikos Koukis' photographs of the remote and inaccessible region of the Athonite "Desert" transport us to a different world, one in which the long tradition of Athonite eremitism has produced some of the most important Athonite figures, such as the great hymnographer Gerasimos Mikragiannanitis.'