Venue: Stephanos Dragoumis Auditorium at the Museum of Byzantine Culture
Thessaloniki, 7-9 December 2018
During the course of its first fifteen-year existence (2001-2015), the Mount Athos Center has played host to ten scientific conferences, covering a broad range of subjects related to the more than one-thousand-year-old history and spirituality of Athonite monasticism. Additionally, more specialised areas have also been covered, including architecture, travellers' accounts, Athonite scholarship, Dependencies of Athos (Metochia), and so on. More than 300 scientific papers have been presented by Greek and foreign speakers at these conferences, providing valuable new insights into the history and life of the Monastic State.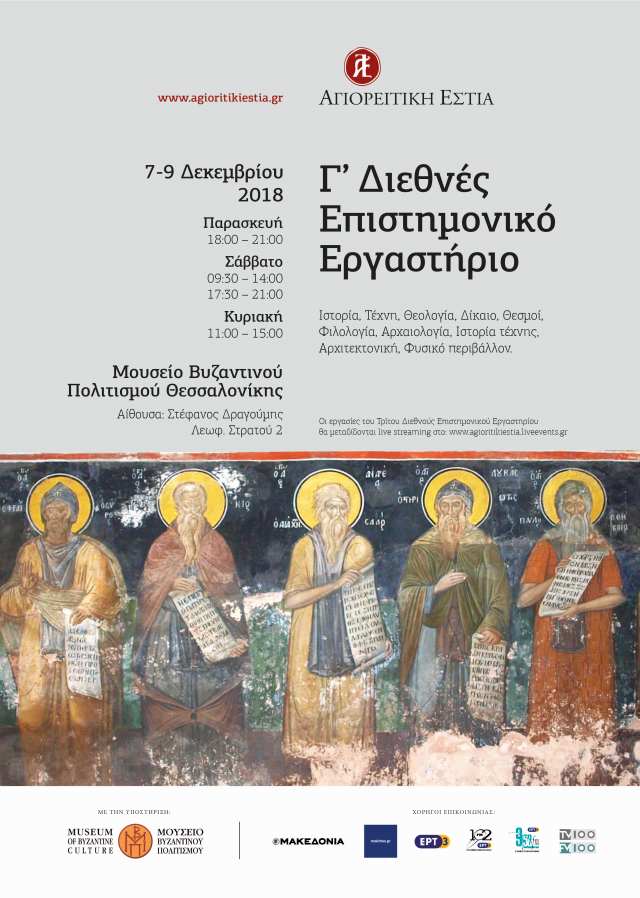 As an extension of this institution, the Mount Athos Center has introduced the format of annual workshops, having already held two in the last two years (2016-2017).
The main goal of the International Scientific Workshops is to develop a real, inspiring dialogue, which will enrich and broaden the issues raised by the research, thus contributing to a more robust conclusion. It is self-evident that the subject matter of the lectures and/or presentations will directly concern Mount Athos (i.e. history, art, theology, justice, institutions, literature, archaeology, history of art, architecture, the environment, other visual arts, conservation of works of art, etc.).
This way we enable scientific community members to publish the results of their research and to make known the initial stages or projects in progress based on their individual or collective research activities, while at the same time presenting the initial (not necessarily final) research results.
Each lecture of the Scientific Workshop shall last 20 minutes and immediately following the presentation there will be a 10-minute discussion on what was presented. The total number of lectures to be included in the Programme will not exceed 25.
________________________________________________
Abstracts of prospective speakers
________________________________________________
Organization
Scientific-Organising Committee
Chairman
Kriton Chrysochoidis, Director Emeritus of the Institute of Historical Research of the National Research Foundation, as Chairman
Members
Hieromonk Nicodemos Lavriotis
Archimandrite Methodios, Hegoumen of Chilandari Monastery
Elder Symeon Dionysiates
Symeon Paschalides, Professor at the Faculty of Theology, A.U.Th.
Athanasios Semoglou, Professor of Byzantine Archaeology & Art / Dept. of History and Archaeology, A.U.Th.
Stefanos Diamantes, Forester – Phytopathologist. Regular Researcher of the Forest Research Institute
Ploutarchos Theocharides, Architect
Phaedon Chatziantoniou, Architect - Restorer
Supervisor Anastasios Douros, Director of Mount Athos Center
Co-ordination Maria Gianelou, Head of Finance & Administration
Media & Publicity Christos Dokalis
Secreterial and Technical Support Evangelos Tsikiras, Olga Kotsabas, Kiki Athanasiadou, Costas Argyropoulos
________________________________________________
With the kind support of the Museum of Byzantine Culture

________________________________________________
Media Sponsors