Zagora, Pelion
14 - 16 July 2023
The Mount Athos Center in cooperation with the Pelion Letters and Arts Society jointly organize with the Magnesia and Sporades Regional Units a Scientific Symposium under the theme 'Pelion - Mount Athos: A relationship enduring for centuries' on the 14th, 15th and 16th of July 2023, in Zagora, Pelion.

The events are under the support and auspices of the Greek Ministry of Culture and the Holy Metropolis of Demetriada and Almyros.
.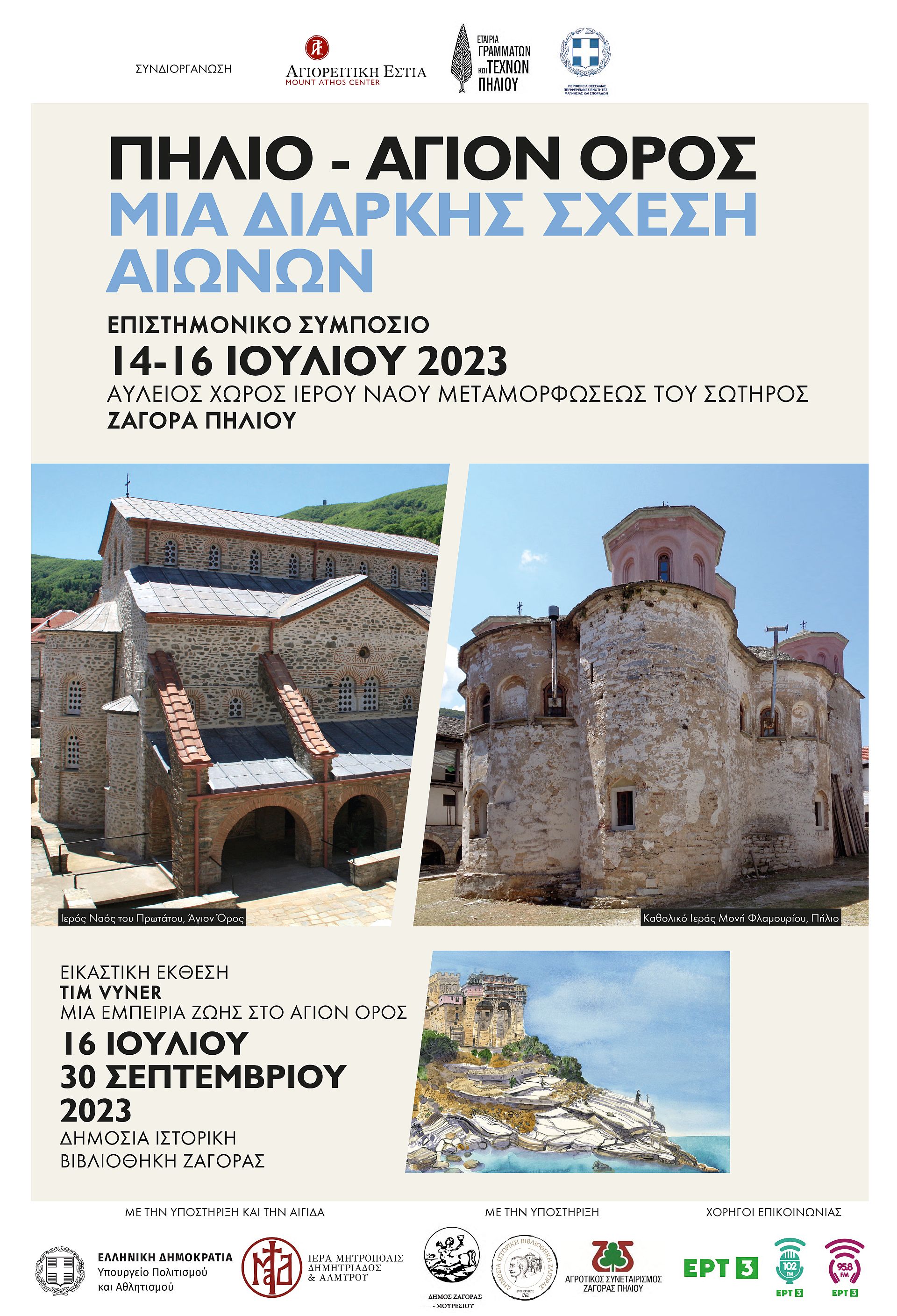 The aim of the symposium is to highlight the timeless and complex relations between Mount Athos and Pelion and its wider region as well as to expand the scientific dialogue mainly regarding the historical, spiritual and cultural connection of the two places. Scientists and researchers are invited to contribute their knowledge and experience in the symposium within the following thematic sections:
–Historical relationship between the two places (e.g. settlements / establishment of monasteries in Pelion by Agiorites and by Peliorites on Mount Athos).
–Historical / spiritual figures from Pelion and Mount Athos.
–Affinities / influences of ecclesiastical art and architecture in Pelion and Mount Athos.

At the same time, the Mount Athos Center presents the exhibition of paintings by the British artist, Tim Vyner, Professor at Bath School of Design, Bath Spa University, with the title 'A life experience on Mount Athos' which will be exhibited at the Public Historical Library of Zagora throughout the entire summer period (July 16 – September 30).

| | |
| --- | --- |
| | |

The message from the organizing committee:
Throughout its thousand-year history, Mount Athos has been a stronghold of the Orthodox faith and tradition, playing a leading role in the spread of the Orthodox monastic ideal not only in the areas of the Greek peninsula but also in the extended Balkan regions and beyond, either through the Metohia institution or by the action of individual monks.
Pelion, a place with an identical natural environment to Mt. Athos, but at the same time a 'holy mountain' itself, already dotted with small and large monastic institutions since the Byzantine years, was reasonably associated with Mt. Athos. Undeniable witnesses of this connection were the many Agioritika Metohia as well as important independent monasteries that were founded by great figures of Mount Athos, such as Saint Dionysios of Olympus, founder of the Sourvia Monastery and Saint Symeon the Barefoot and Single-Tunicked, founder of the Flamouriou Monastery.
A consequence of the spiritual connection between Pelion and Athos must be considered the intense attendance of Peliorites in the monasteries of Mount Athos, the fruitful communication between the two places, the spiritual activity of important personalities such as the Agiorite Hieromonk Dionysios Zagoraios and many others. At the same time, the region of Pelion, mainly from the end of the 18th century and during the 19th century, emerged as a place of reception for artists from Mount Athos, whose work had a decisive effect on the development of local artistic production.

The members of the organizing committee:
– Elder Symeon Dionysiatis, First Vice President of the Board of Directors of the Mount Athos Center
– Maria Nanou, Historian of Byzantine art, Theologian / Kitsos Makris Folk Art Center, Library and Information Center, University of Thessaly
– Diogenis Karagiannakidis, Dr of Law, Lawyer, President of the Pelion Letters and Arts Society
– Anastasios Ntouros, Director of the Mount Athos Center

Place: Zagora, Pelion
Scientific Symposium:
Venue: The Symposium will take place in the courtyard of the Holy Church of the Transfiguration of the Savior
Duration: 14 & 15 July 2023
The complete programme and the abstracts of the symposium papers (in Greek)

THE COMPLETE PROGRAMME AND THE ABSTRACTS OF THE SYMPOSIUM PATERS (in Greek)

The exhibition: Tim Vyner 'An experience of life on Mount Athos'
Venue: Public Historical Library of Zagora
Duration: 16 July – 30 September 2023
Mount Athos Center / +30 2310 263308 / This email address is being protected from spambots. You need JavaScript enabled to view it. / www.agioritikiestia.gr
Pelion Letters and Arts Society / +302426022221 / This email address is being protected from spambots. You need JavaScript enabled to view it.