Saturday 7 – Monday 9 December 2019
Venue: Stephanos Dragoumis Auditorium at the Museum of Byzantine Culture
For the fourth year in succession, the Mount Athos Center is organising its International Scientific Workshop, an institution that has now become an annual event, an important meeting-place for the scientific community engaged in research relating to Mount Athos, and, judging by the large number of researchers from Greece and abroad wishing to participate in it, an event of considerable international significance.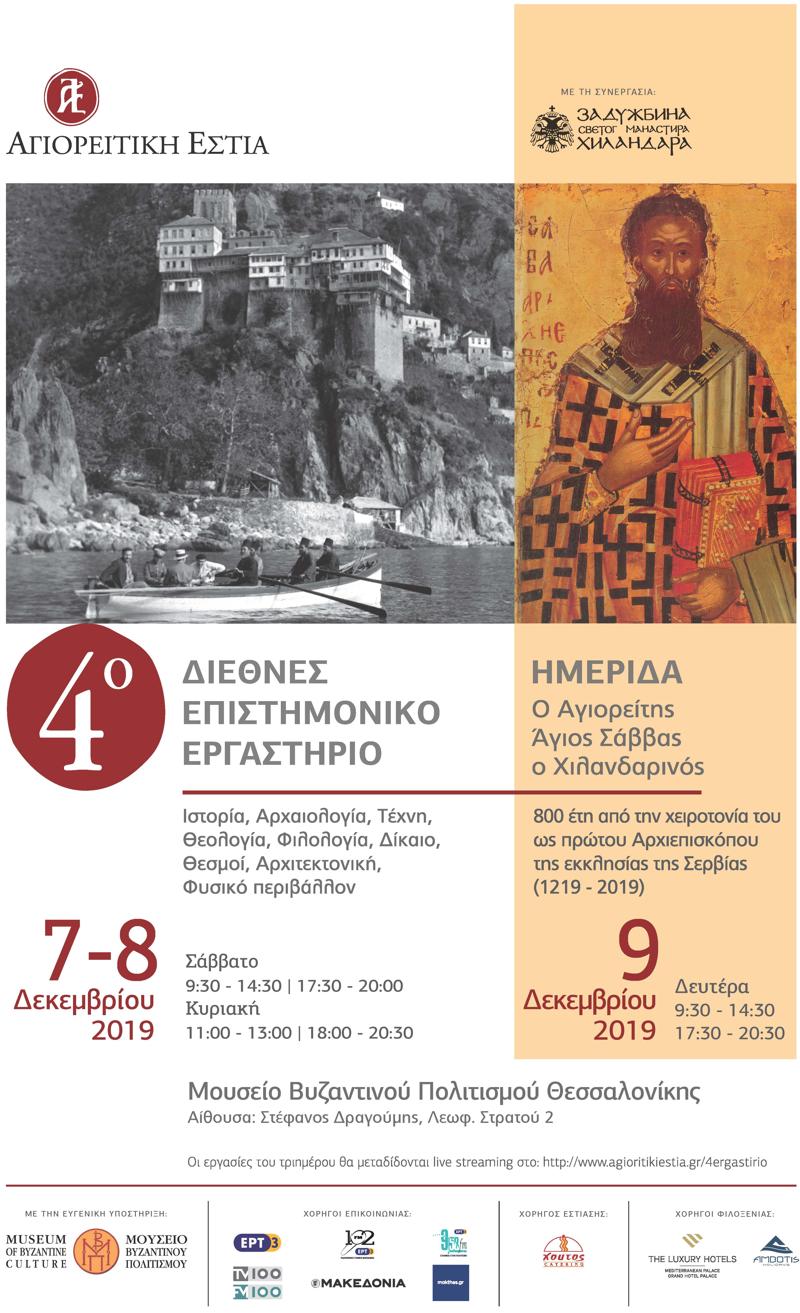 The success of the first three Workshops, at which over 65 either completed or ongoing research projects were presented, together with the great interest shown in the Workshops' proceedings by members of the non-specialist public who have a fond interest in Mount Athos, demonstrates that the Mount Athos Center, faithfully committed to pursuing the goals of its Charter, is striving hard and succeeding in its aim to disseminate scientific knowledge about the Athonite state, a place of countless treasures and inexhaustible history.
This year, within the framework of the Workshop's proceedings, we have included a one-day scientific conference devoted to the life and work of the Athonite monk St. Savvas of Chilandar. The conference is being organised to mark the 800
th
anniversary of the foundation of the Church of Serbia and the consecration of St. Savvas as the first archbishop of Serbia. These events, of course, are of particular significance to the Serbian Church and nation, and at the same time equally significant for Mount Athos since the monk, and later saint. Savvas of Chilandar was one of the Holy Mountain's most illustrious spiritual figures. He was the first founder of Chilandar Monastery and a generous patron for many other monasteries during what was a difficult period for the Holy Mountain. Members of the public and the scientific community will have the opportunity to learn about different aspects of the personality, life and work of St. Savvas from the research projects carried out by Greek and Serbian researchers who have been invited to present their work without any financial gain for themselves and to write the texts that will be presented at the conference and then will later be included in the commemorative volume that is being prepared on St. Savvas and is scheduled for completion in 2020.
The opening ceremony of the Fourth Workshop will be held at 10 a.m. on Saturday 7 December 2019 in the 'Stephanos Dragoumis' Auditorium of the Museum of Byzantine Culture in Thessaloniki.
The Workshop's proceedings will take place over the course of Saturday and Sunday and come to a close on the evening of Sunday 8 December 2019.
The one-day conference will commence at 9.30 a.m. on Monday 9 December 2019 and will finish at 8.30 p.m. on the same day.
Each presentation at the Workshop will last 20 minutes and will be immediately followed by a 10-minute discussion.
_____________________________________________________
Programme
_____________________________________________________
Scientific-Organising Committee of the Workshop
Chairman
Kriton Chryssochoidis, Honorary Director of the Institute of Historical Research of the National Research Foundation
Members
Hieromonk Nicodemos Lavriotis
Archimandrite Methodios, Hegoumen of Chilandar Monastery
Elder Symeon Dionysiates
Symeon Paschalides, Professor at the Faculty of Theology, A.U.Th.
Athanasios Semoglou, Professor of Byzantine Archaeology & Art / School of History and Archaeology, A.U.Th.
Stefanos Diamantes, Forestry expert – Phytopathologist. Tenured Researcher at the Forest Research Institute
Ploutarchos Theocharides, Architect
Phaedon Chatziantoniou, Architect - Restorer
Scientific-Organising Committee of the one-
day conference on the life and work of St. Savvas of Chilandar
Hieromonk Nicodemos Lavriotis
Archimandrite Methodios, Hegoumen of Chilandar Monastery
Elder Symeon Dionysiates
Kriton Chryssochoidis, Honorary Director of the Institute of Historical Research of the National Research Foundation, as Chairman
Mirjana Živojinović, Academic, Serbian Academy of Sciences and Arts
Srdjan Pirivatrić, Research Associate, Institute for Byzantine Studies / Serbian Academy of Sciences and Arts
Angeliki Delikari, Assist. Professor of Medieval History of the Slavic People, School of History and Archaeology, Aristotle University of Thessaloniki
Demetrios Salpistis, Honorary Director of Mount Athos Center.
Anastasios Douros, Director of Mount Athos Center
Organisation
Supervisor: Anastasios Douros, Director of Mount Athos Center
Co-ordination: Maria Gianelou, Head of Finance & Administration
Media & Publicity: Christos Dokalis
Secreterial and Technical Support: Evangelos Tsikiras, Kiki Athanasiadou, Anna Vulgari, Eleni Oplopiou, Costas Argyropoulos
_____________________________________________________
With the kind support of the Museum of Byzantine Culture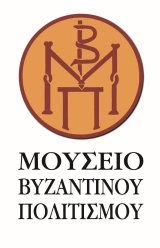 Media Sponsors





Hospitality Providers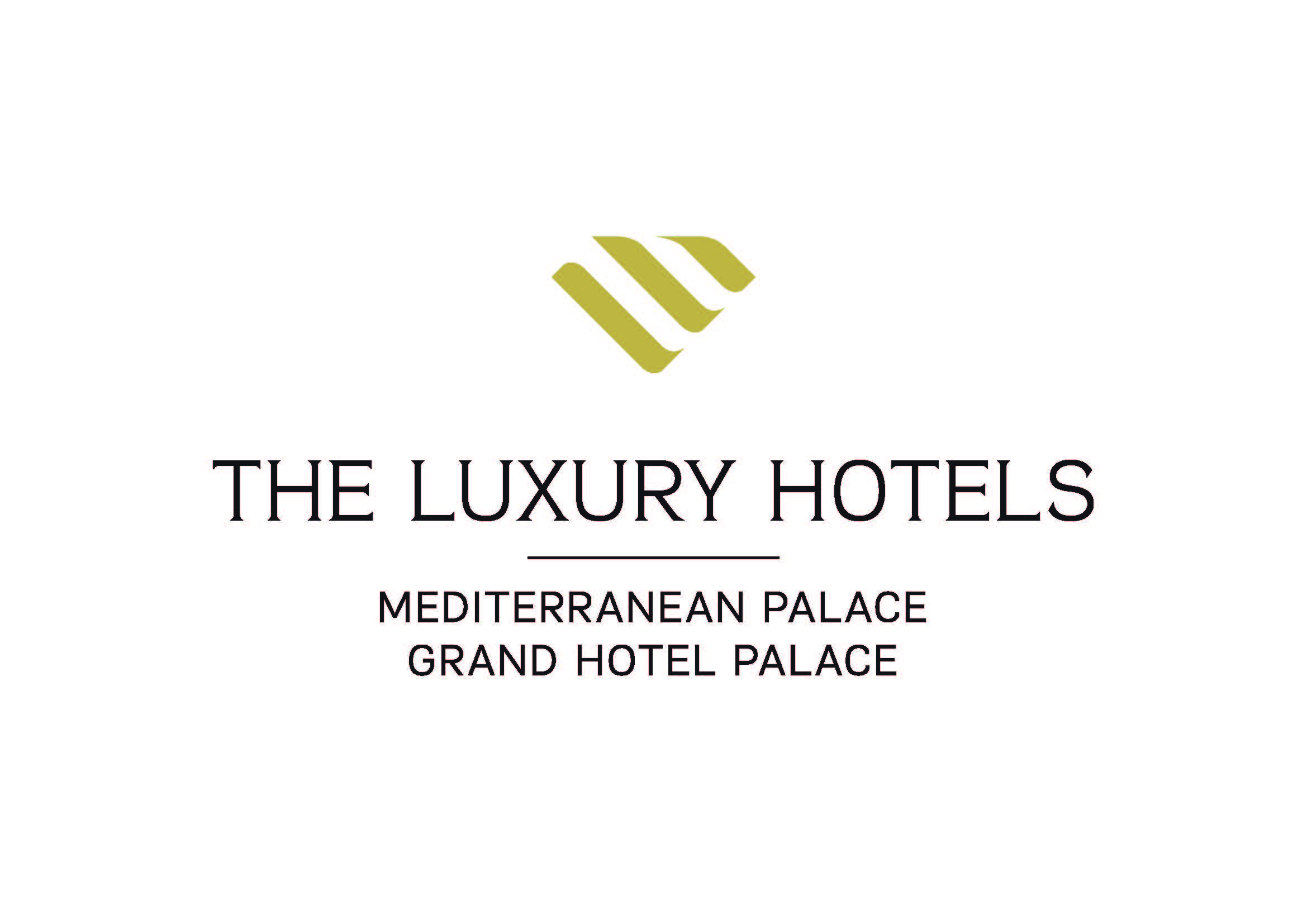 Catering Provider