'From Constantinople to Athos'
31 March – 19 April 2019
Cultural Centre for Youth of the Metropolis of Grevena
In collaboration with the Metropolis of Grevena, the Mount Athos Center in Thessaloniki presents an exhibition of paintings by the hieromonk Anastasios entitled 'From Constantinople to Athos'. The exhibition, which is to be held in the Cultural Centre for Youth of the Metropolis of Grevena, will be opened at 7.30 p.m. on Sunday 31 March 2019 and will run until Friday 19 April 2019. The exhibition will present a selection of works from Father Anastasios's collection, taking visitors on an artistic journey around Mount Athos and some of the monuments and neighbourhoods of Istanbul.

Father Anastasios comes from Panteichion, a suburb of Istanbul. He was tonsured as a monk at the Monastery of Koutloumousiou in 1977 and since 1982 has resided at the Kellion of Timios Prodromos 'Dionysios of Fourna' in Karyes, whose founder was that great teacher of the art of icon-painting, Dionysios of Fourna (c. 1670-1745). Continuing the artistic tradition of this historic kellion, Father Anastasios paints, writes and engages in other artistic activities, in addition to cultivating the kellion's garden. Exhibitions of his work have been staged in Thessaloniki, Larissa, Veria, Volos, Ayià and Athens, as well as in Istanbul, Moscow, Helsinki and Granada, while more recently, in 2018, a large exhibition was organised by the Mount Athos Center in Komotini.
Father Anastasios is a self-taught painter in the naïve style. As he himself says, 'I paint in order to ease the flow of time'. His pictures, painted in egg temperas and emulsions and characterised by their vernacular elements, are permeated by his inner need to transform all his personal experiences into visual images.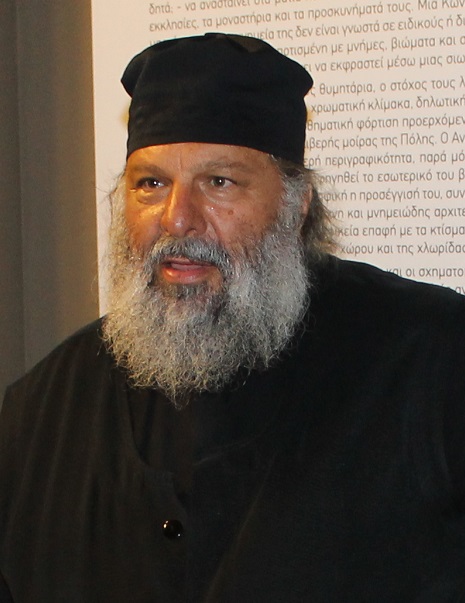 He has had several albums of paintings and short texts published in Greek, including
Athonite Diptychs
(2000),
From September to August
(2004), and
Constantinople, Paraklesis to the Virgin Pausolype
(2011), while more recently his latest work has been released entitled
Just before Dawn: How Decay is Overcome by Life
(2016). In 2007 he republished the scholarly work by the hieromonk Dionysios of Fourna entitled
The Painter's Manual
(c. 1728-1733), which for over three hundred years has been an invaluable handbook and unique reference work for all those wishing to learn the art of icon-painting.
Father Anastasios's works and unique style of painting take the viewer on a wonderful and magical journey, a journey through memory and oblivion. Basing his work on his own artistic sense and long experience as a monk, he draws his inspiration from the daily life of the Athonite monks, the beauty of the natural environment and also the magnificent churches and historical monuments of Istanbul —and, above all, the obscure moments in the daily lives of the city's past and present inhabitants— and, through a lively use of colour, gracefully transforms these subjects into narrative compositions of great originality. All of his subjects are depicted in bright bold colours, and this is what makes his painting imaginative and earthly, for what Father Anastasios ultimately succeeds in capturing through his palette is the images from life that left their mark on his heart and mind.
Information:
Mount Athos Center, Egnatia 109, Thessaloniki, GR 54635.
Tel. no. 2310 263-308
This email address is being protected from spambots. You need JavaScript enabled to view it.
.
www.agioritikiestia.gr
Information & school tours:
Cultural Centre for Youth of the Metropolis of Grevena.
'To Analogion' Bookshop, tel. no. 24620 23020.
Exhibition opening hours: 9 a.m.–1 p.m. & 6 - 8 p.m.
Duration of exhibition: 31 March – 19 April 2019