Nea Ionia Cultural Centre, Municipality of Volos
9 – 17 Νovember 2019

The cultural association 'MAGNETON KIVOTOS' of the Holy Metropolis of Demetrias and Almyros and the Cultural Centre of the Church of St. Nektarios, Nea Ionia, Volos, in collaboration with the Mount Athos Center, Thessaloniki, are jointly organizing the exhibition of photographs by Monk Gabriel of Philotheou Monastery entitled: 'Athos – Beyond the Boundaries of Time'
The exhibition, which forms part of the programme of events celebrating the patronal festival of the Church of St. Nektarios in Nea Ionia, Volos, will be held in the Exhibition Hall of the Nea Ionia Cultural Centre of the Municipality of Volos and will be officially opened at
7.30 p.m. on Saturday 9 November 2019
.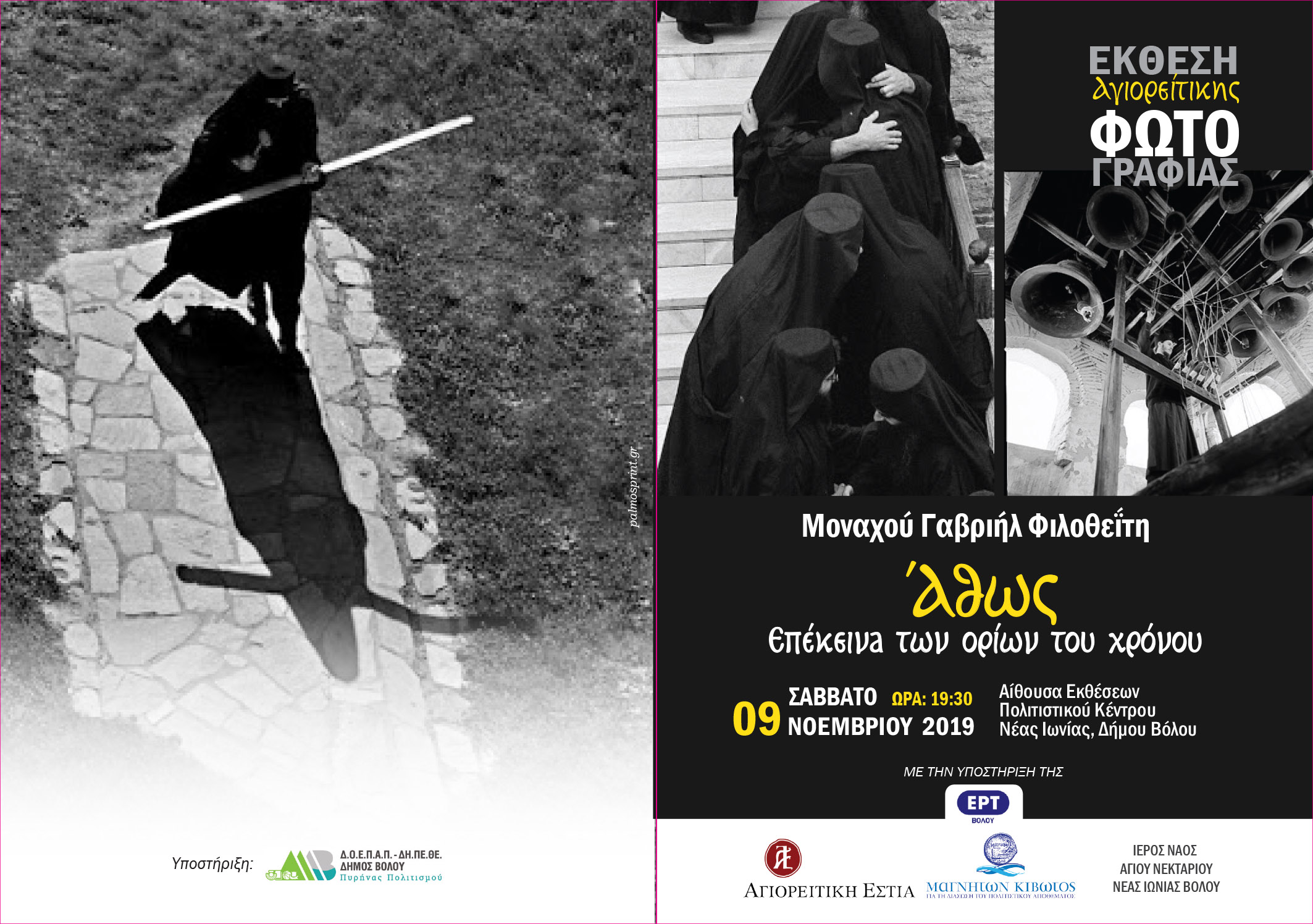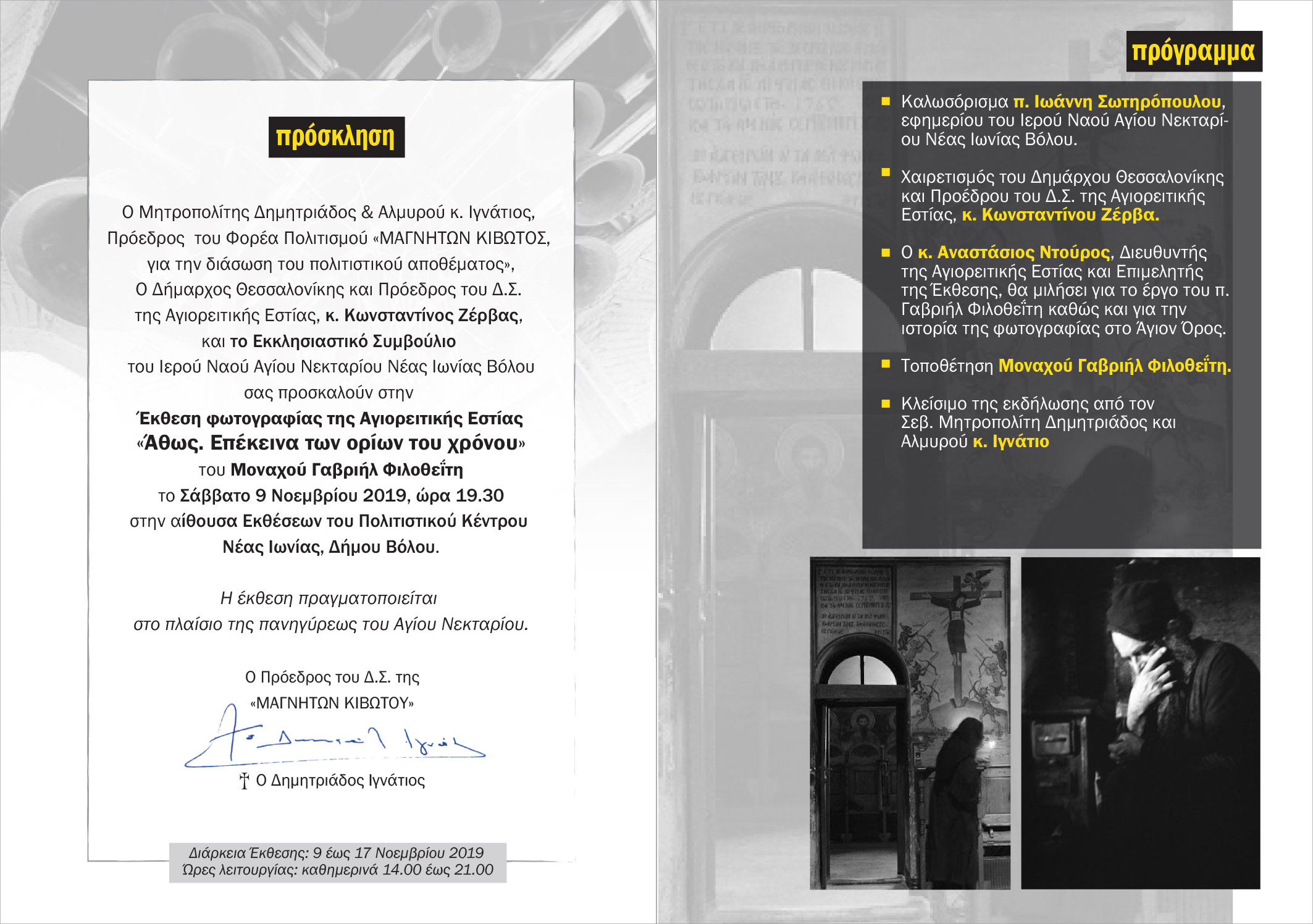 The exhibition presents the photographic oeuvre of Monk Gabriel of Philotheou Monastery, who, in his own unique way, captures moments of the daily lives of the monks of Mount Athos, with great artistic sensitivity and technical excellence. Through his material, visitors can gain an insight into monastic life on Athos and marvel at the simplicity and grandeur of the Holy Mountain. Those viewing these images will not feel the alienation which is caused by contact with an incomprehensible, metaphysical world. Without losing anything of their spirituality or asceticism, Gabriel's figures are entirely approachable: they pray, they rest, they smile, they struggle, they suffer – they are ordinary people, like ourselves.
The exhibition was first presented in Thessaloniki between May and September 2007 in the exhibition hall of the Mount Athos Center, and was later transferred to the Koventareios Public Library in Kozani in April 2012.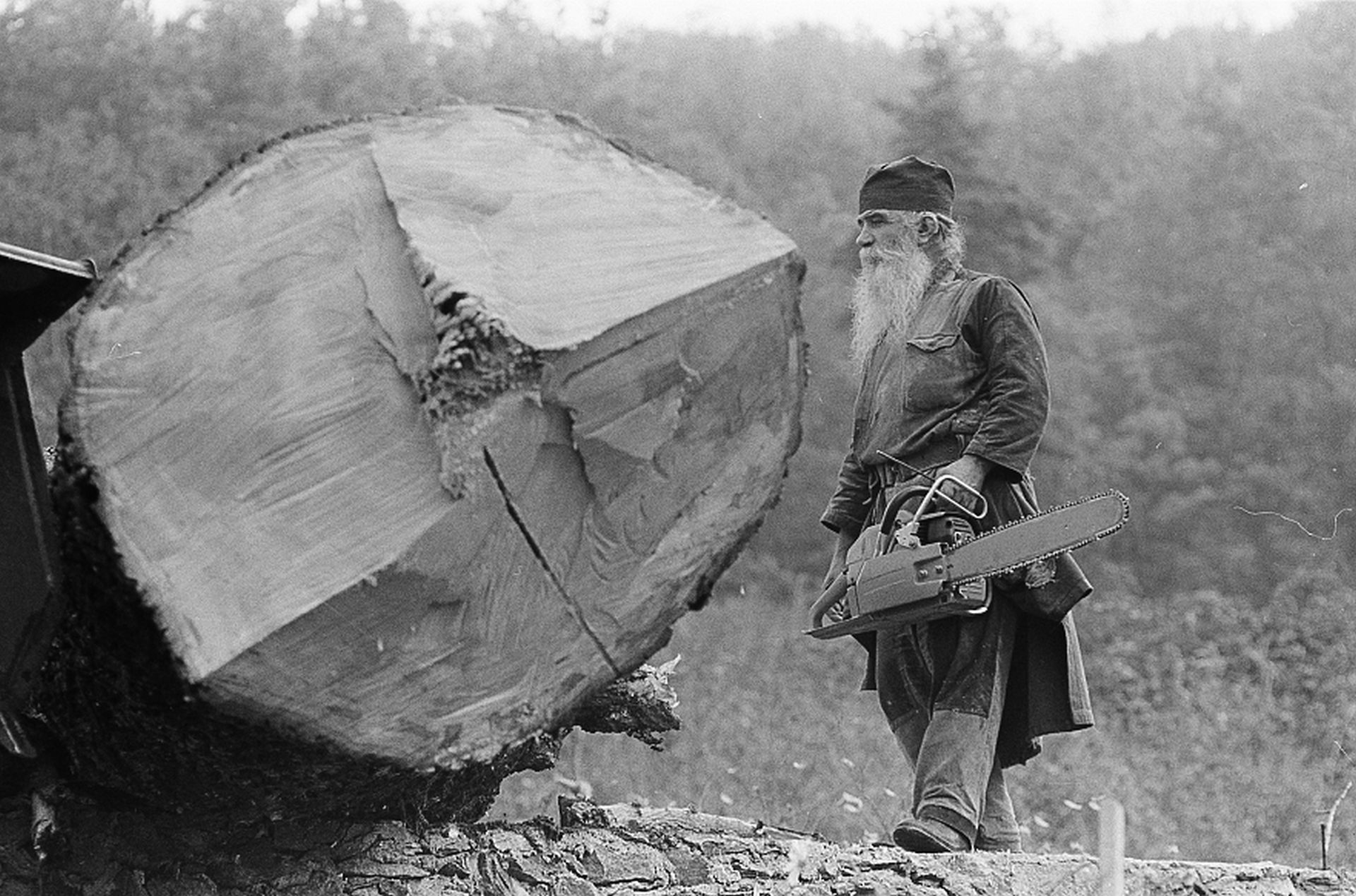 Exhibition curator
: Anastasios Douros, Director, Mount Athos Center
Official opening
: 7.30 p.m. Saturday 9 November 2019
Duration
of
exhibition
: 9 – 17 November 2019
Opening hours
: every day 10.00 a.m. – 8 p.m.
Address
: At the junction of Stadiou St. and Mandilara St., Nea Ionia
Telephone:
2421 091 150