'The Botanical Treasure of the Mount Athos Peninsula'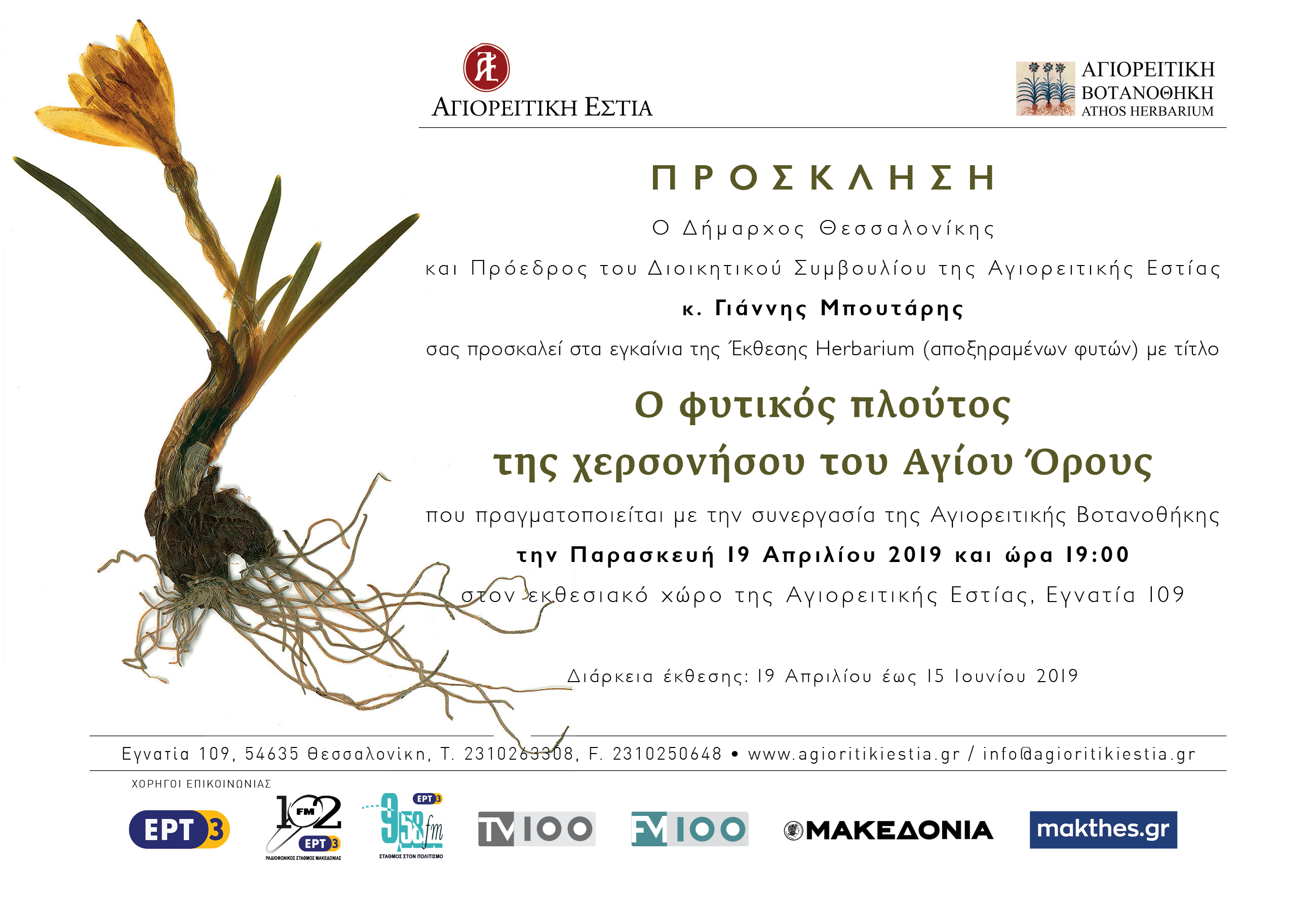 The Mount Athos Center, in collaboration with the Athos Herbarium, presents an herbarium (dried flowers) exhibition entitled 'The Botanical Treasure of the Mount Athos Peninsula', which will be held in the exhibition space of the Mount Athos Center from
19 April until 15 June 2019 (

extension until 14 September 2019

).

Browse all areas of the exhibition by clicking and dragging in the box above. Double-click to navigate full screen. Zoom in with the mouse wheel.
Mount Athos represents the most important nucleus of Orthodox monasticism, with a continuous history of over one thousand years since the date of its foundation. The uniqueness of Athos's natural environment is due to the peninsula's geographical position and relative isolation, the great variety of geological formations and rocks, the varied relief, the mosaic of climatic types and the lack of nomadic grazing animals.
The exhibition presents the botanical wealth of the Athos peninsula, which consists of a variety of plant types, such as Mediterranean, Balkan, European, Euro-Siberian, Oriental and native species, with a preponderance of species characteristic of the Eastern Mediterranean region. It is worth mentioning that the flora of Mount Athos consists of 1,453 species and subspecies of plant, which accounts for approximately one quarter of all Greek flora. Of these species, the 34 rare native species are of particular importance.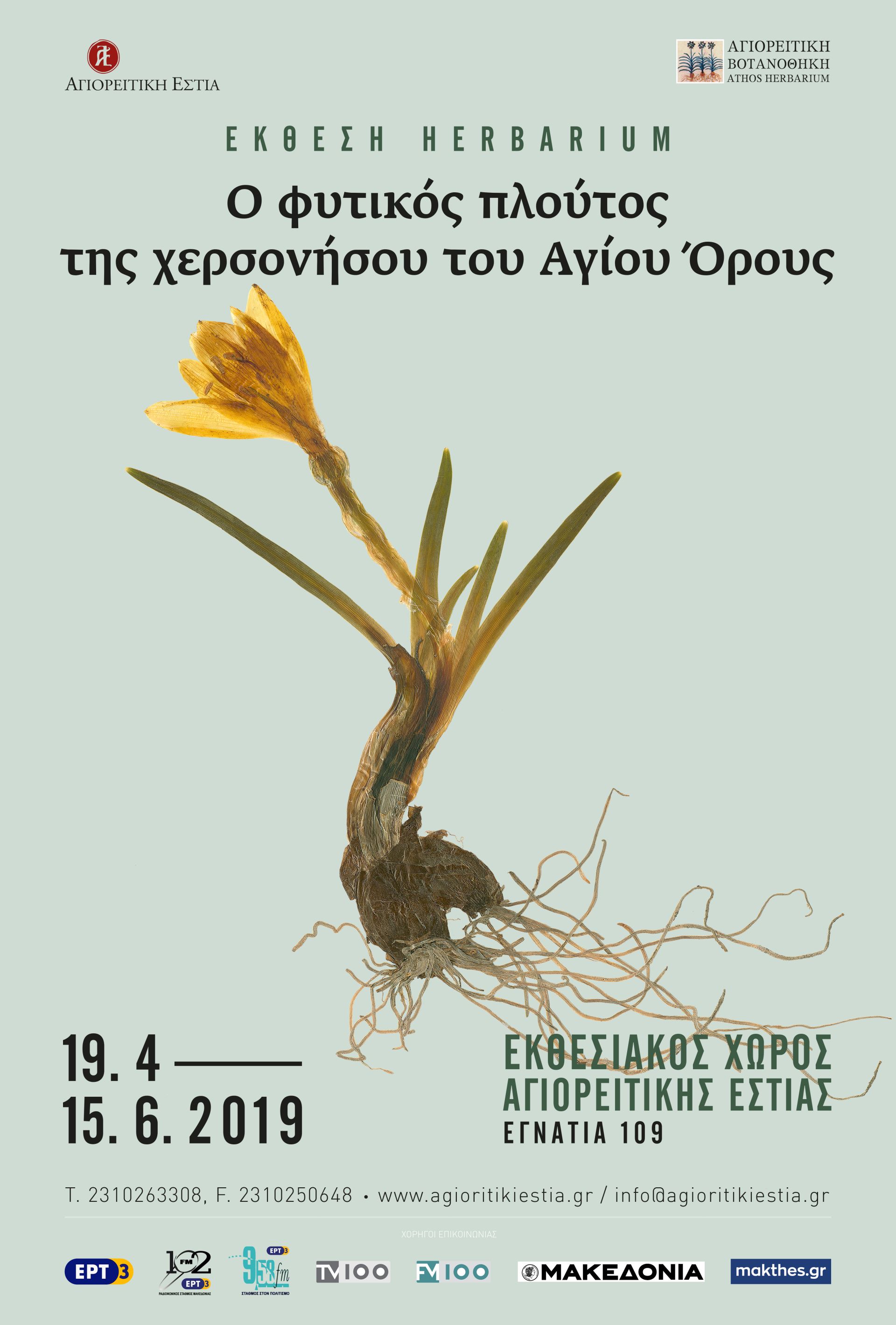 Mount Athos is a wonderful example of a place where man lives in harmony with nature. Over the centuries the monks have proved to be effective guardians of their natural environment and the latter has become closely bound up with their spiritual life.
The 'Athos Herbarium' is a long-standing venture that has been realised by a number of monks and lay people moved by a sense of love and respect for Athos's natural heritage. The Mount Athos Center has embraced this endeavour and is now helping to promote it.

Scientific associates:
Dr. Stephanos Diamandis, Dr. Forester – Forest Pathologist, Senior Researcher of the Forest Research Institute.
Dr. Georgios Fotiadis, Professor of Forest Botany, TEI of Karpenisi.

The exhibition will be officially opened at 7 p.m. on Friday 19 April 2019 at the Mount Athos Center (Nedelkou Building, Egnatias 109, Thessaloniki, tel. 2310 263-309,

This email address is being protected from spambots. You need JavaScript enabled to view it.

and www.agioritikiestia.gr).


Exhibition director: Anastasios Douros, Director of the Mount Athos Center.
Exhibition curator: Andonis Vasileiadis, Curator of the Athos Herbarium.

Duration of exhibition: 19 April — 15 June 2019 (

extension until 14 September 2019

).
Open during normal business opening hours / Closed on Sundays.

The exhibition catalogue is available in both Greek and English